Description
Our best online seller, Squeaky Cheese curd is our freshest product. It takes about 6 hours from milk to curd and is good to eat straight away. Our cheese curd is produced as part of our cheddar making process. Following the Cheddaring process the cheese is cut and minced producing the curds. We then package the curd for orders or press into moulds and mature. This process produces our excellent hand made tradtional farmhouse cheddar. Please note that these are Cheddar Cheese curds – firm and squeaky in nature, so not suitable for making cheesecakes.
In 2020 our cheese curd has been named Best Cheese Curd by Lux Life Magazine.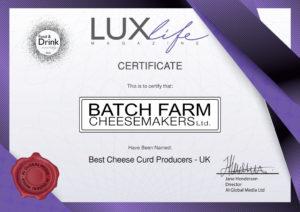 Delivery Throughout the UK
We supply throughout the UK and ship more cheese curd than almost every other product available within our online store. It is a very versatile product and is sensational fresh out of the pack (and stunning just after it is made). Squeaky cheese curd is a favourite with our Canadian friends who combine it with chips and a good helping of gravy to produce 'Poutine'. Poutine is a favourite across fairgrounds in North America but cheese curd is no one trick pony. Turn it into the secret ingredient in your cheese sauce or make the worlds greatest cheese burger. The options are endless. We'd love to hear what you use it for so please get in touch with us on facebook.
Please note that our Cheese Curds are packaged frozen to ensure they get to you as fresh as possible. This has no impact at all on the taste or texture of the product.